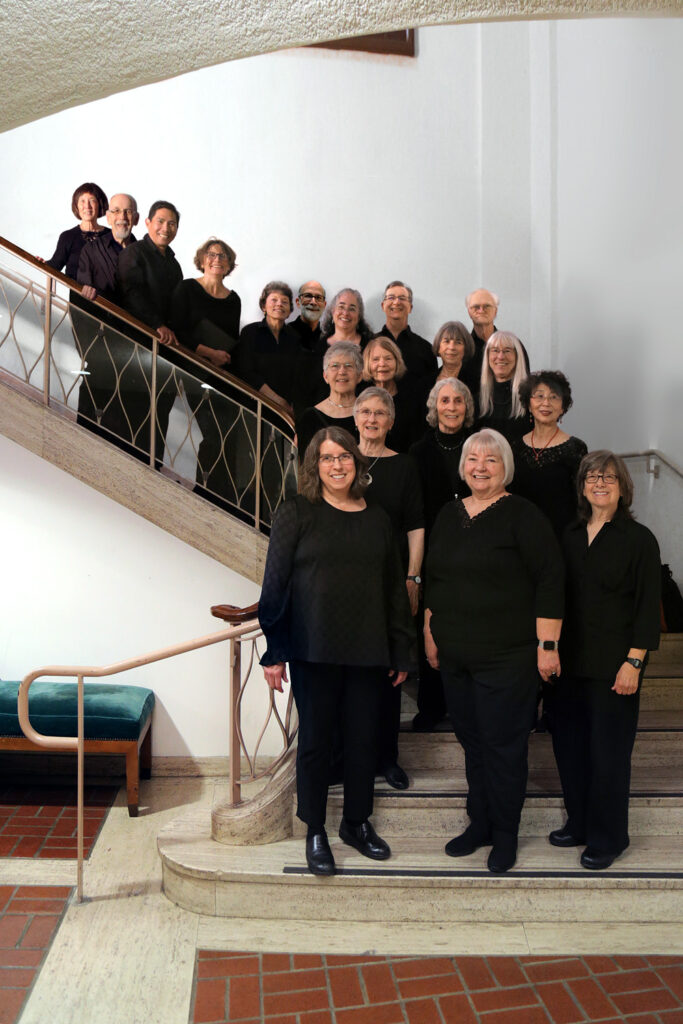 The Berkeley Community Chamber Singers (BCCS) is an a cappella group of 16–32 singers that serves as the outreach arm for BCCO. BCCS sings a varied repertoire of madrigals, gospel, pop songs, and spirituals and performs at diverse venues, such as senior residences, hospitals, and homeless shelters. BCCS also presents concerts for the general public – Check out our upcoming performances below.
BCCS is led by Music Director Costas Dafnis. Costas is a composer and sound artist. In addition to concert music, he writes for theater, dance and games, lectures in film at the San Francisco Art Institute and teaches musical composition at the San Francisco Conservatory of Music. It is a bit of a homecoming for Costas, who was one of three finalists of BCCO's Young Composers Competition, where his work Carmen Vocis was performed.
Come join us at these performances, which are FREE to attend unless otherwise indicated.
Thursday, March 19, 11 am, St Anthony's Dining room, San Francisco
Sunday, May 3, 3:30 pm Chaparral House 1309 Alston Way, Berkeley (Private event)
Thursday, May 28, 3:30 pm Lake Park Retirement Center, Oakland (Private event)
Sunday, May 31, 4 pm St Albans Church, Albany (Check back for ticket information)
Please come back and check for future performances
The Chamber Singers meet on Tuesdays, 7:00 to 9:00 PM, at St. Alban's Church 1501 Washington Ave, Albany.
| | | | |
| --- | --- | --- | --- |
| soprano | alto | tenor | bass |
| Monica Clark | Carol Davison | Marjorie Cox | Stan Dewey |
| Lin Clymer | Susan Jaffe | Ignacio Dayrit | Bill Inwood |
| Madeleine Gordon | Janice Murota | Eloise Fox | Kevin Mann |
| Lisa Nelbach | Mary Rogier | Nikki Gage | George Martin |
| Janelle Noble | Ellen Rosenfield | Janet Hack | Jarred Miyamoto-Mills |
| Melody Noll | Dan-Ching Young | Emily Hancock | |
| Patti Powers-Risius | | Joan King-Angell | |
| Christine Priere | | | |
For more information please contact:
Berkeley Community Chorus & Orchestra, 510-433-9599,
or [email us] (Please enter "Chamber Singers" in the Subject line)