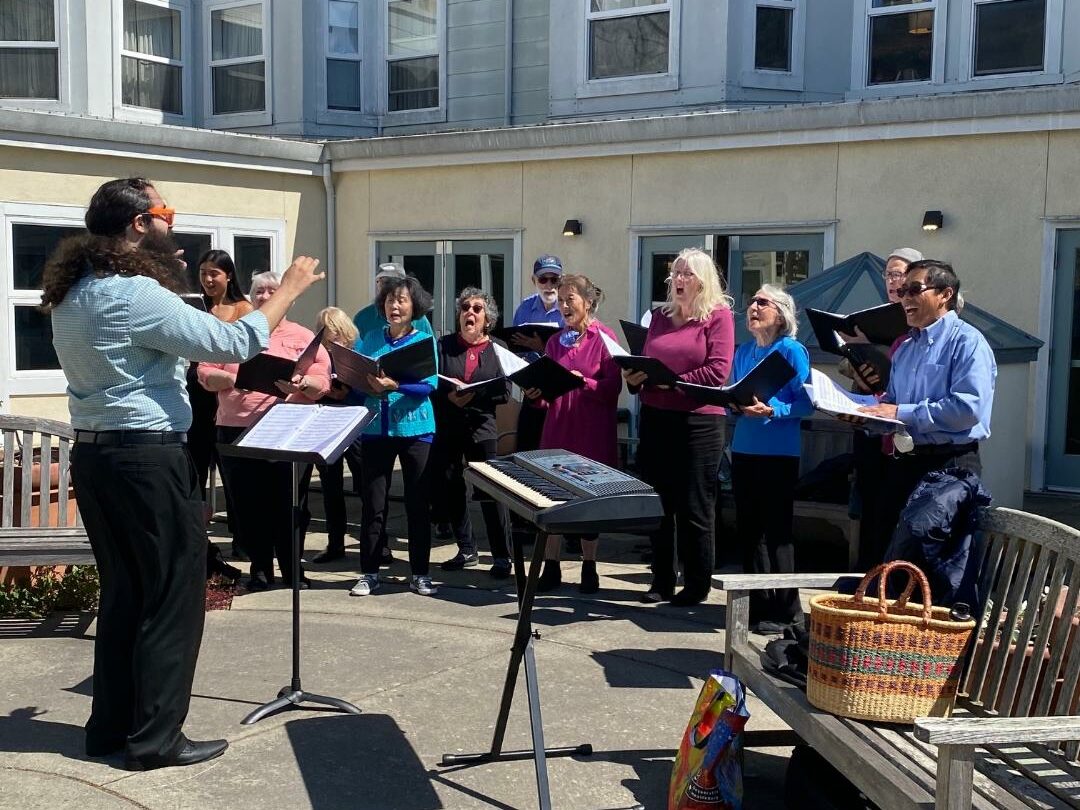 The Berkeley Community Chamber Singers (BCCS) is an a cappella group of 16–32 singers that serves as the outreach arm for BCCO. BCCS sings a varied repertoire of madrigals, gospel, pop songs, and spirituals and performs at diverse venues, such as senior residences, hospitals, and homeless shelters. BCCS also presents concerts for the general public – Check out our upcoming performances below.
BCCS is led by Music Director Costas Dafnis. Costas is a composer and sound artist. In addition to concert music, he writes for theater, dance and games, lectures in film at the San Francisco Art Institute and teaches musical composition at the San Francisco Conservatory of Music. It is a bit of a homecoming for Costas, who was one of three finalists of BCCO's Young Composers Competition, where his work Carmen Vocis was performed.
Many of our events are open to the public and FREE to attend unless otherwise indicated. Spring 2022 gigs are listed below, and can be previewed HERE:
Lake Park, Oakland
Lake Merritt Senior Living, Oakland
Mabel Howard Apartments, Berkeley
Recital in St. Mary Magdalen Church, Berkeley

Please inquire if you are interested in BCCS performing in your venue or event
The Chamber Singers meet on Tuesdays, 5:45 to 7:45 PM, at St. Alban's Church 1501 Washington Ave, Albany for the Fall and Spring terms.
| | | | |
| --- | --- | --- | --- |
| soprano | alto | tenor | bass |
| | | | |
| Lin Clymer | Catherine Atcheson | Joan King-Angell | Stan Dewey |
| Madeleine Gordon | Janice Murota | Ignacio Dayrit | Kevin Mann |
| Christine Izaret | Ellen Rosenfield | Eloise Fox | Jarred Miyamoto-Mills |
| Lisa Nelbach | Dan-Ching Young | Janet Hack | Richard Page |
| Janelle Noble | | Emily Hancock | Howard Rosenberg |
| | | | |
| | | | |
For more information please contact:
Berkeley Community Chorus & Orchestra, 510-433-9599,
or [email us] (Please enter "Chamber Singers" in the Subject line)