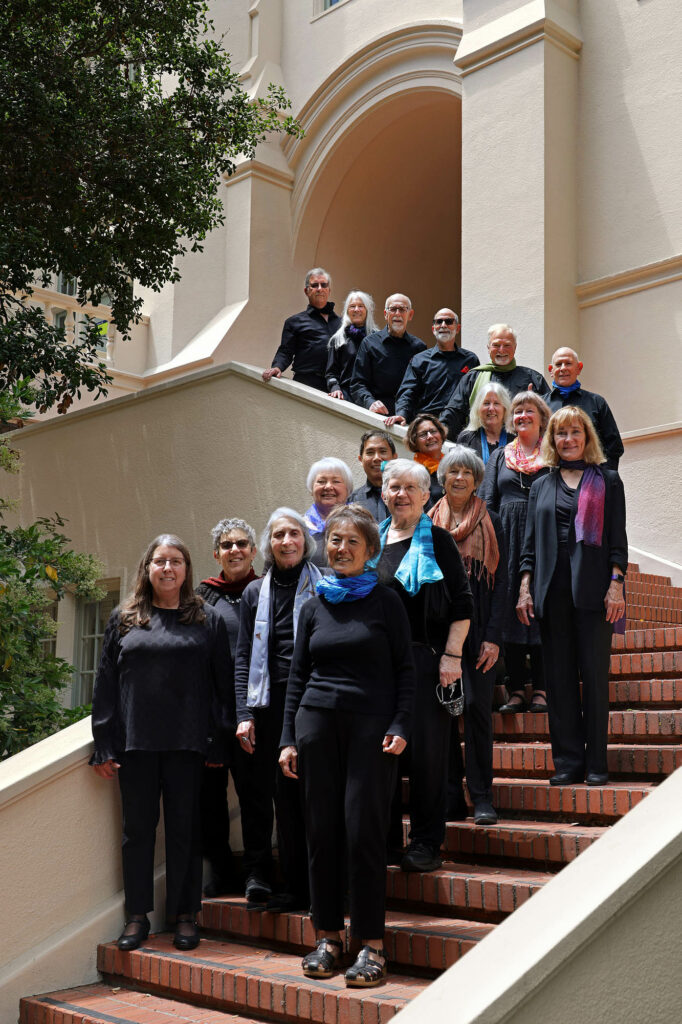 The Berkeley Community Chamber Singers (BCCS) is an a cappella group that serves as BCCO's outreach arm. Currently at 21 voices strong, BCCS sings a varied repertoire that ranges from madrigal and international music to traditional and pop Americana. It performs at such venues as senior residences, hospitals, shelters, street fairs, and other community events. – Check us out HERE.
BCCS is led by Music Director Costas Dafnis, a multiple award-winning composer and sound artist. Costas writes music for orchestral concerts, theatrical productions, dance, and interactive games. He teaches technology and composition at the San Francisco Conservatory of Music and has lectured in film at the San Francisco Art Institute. His work Carmen Vocis won the 2013 BCCO Young Composition Award and was performed  by the chorus at the spring concert. . 
Spring 2023 performances were at the North and South Berkeley Senior Centers, Berkeley Pines, Chaparral House and a concert at St. Albans Episcopal Church: MORE INFO HERE.
Confirmed Fall 2023 performances include a collaboration with the Greek Chamber Music Project's "Music of Resistance," a tribute concert to the late Mikis Theodorakis.
"Music of Resistance," Mary Magdalen Church, Sunday, November 12, 4:00pm, 2005 Berryman Street
Solano Strollish, Sunday, December 10, 3:00 pm, Solano Avenue (Albany/Berkeley, location TBD)

BCCS would love to perform at your event or venue in the Fall and Holidays – please ask!
Fall signups for new singers are underway – Join Us! The Chamber Singers meet on Tuesdays, 5:30 to 7:30 PM, at St. Alban's Church 1501 Washington Ave, Albany.
Current membership, by section:
| | | | |
| --- | --- | --- | --- |
| Soprano | Alto | Tenor | Bass |
| Lin Clymer | Catherine Atcheson | Joan King-Angell | Stan Dewey |
| Madeleine Gordon | Janice Murota | Ignacio Dayrit | Kevin Mann |
| Christine Izaret | Lisa Nelbach | Eloise Fox | George Martin |
| Alice McCain | Ellen Rosenfield | Janet Hack | Jarred Miyamoto-Mills |
| Janelle Noble | | Paloma Pavel | Richard Page |
| Susan Wakerlin | | | Howard Rosenberg |
| | | | Brian Shillinglaw |
For more information please contact:
Berkeley Community Chorus & Orchestra, 510-433-9599,
or [email us] (Please enter "Chamber Singers" in first line of the message)