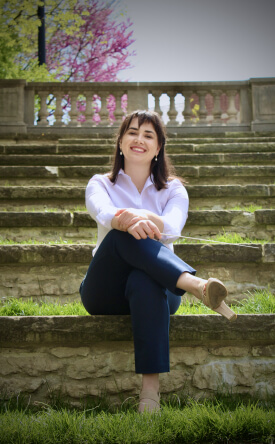 Samantha holds masters degrees in both Orchestral Conducting and Music Theory from The Ohio State University, where she was a graduate teaching assistant in Music Theory and a member of the Cognitive and Systematic Musicology Laboratory. She was also the music director of the Ohio State Community Orchestra, and served as an Assistant Conductor for the Ohio State Symphony Orchestra. She previously held the position of Assistant Conductor with the Westerville Symphony in Columbus, OH, and has previously conducted with the Oxford University Philharmonia, the Galesburg Community Choir, and the Knox College String Ensemble.

Her music theory research focuses on the performance of musical form and emotional responses to music, particularly as they pertain to the relationships between the conductor, audience, and performers. Currently, she is working on a project that looks at the effects of visual cues on the auditory stream segregation of music. Her previous research has looked at synchronized movement and various musical characteristics on social bonding between members of a group, quantitative analysis of expressive timing in performance, cognitive methods of musical analysis that measure participants' responses to music in real time, and the relationship between orchestral conductors' facial expressions and musicians' emotions as mediated by emotional contagion. Her research has been accepted for presentation at the Society for Music Theory Midwest Conference, Future Directions of Music Cognition, and the Oxford Conducting Institute International Conducting Studies Conference.

In her free time, Sam enjoys spending time outdoors, whether it be biking, hiking, rowing, or skiing.