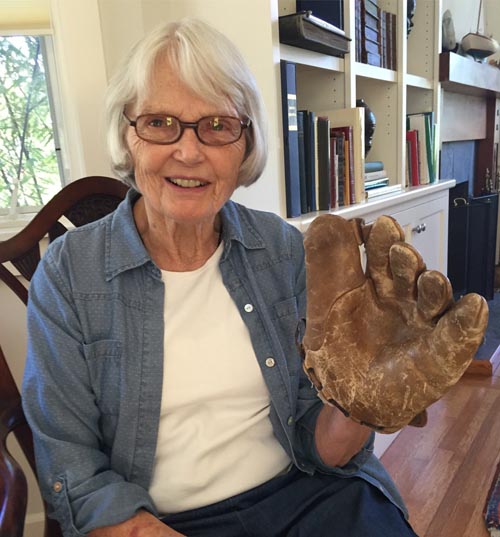 In an unexpected but characteristically understated move, long-time BCCO alto Betty Pigford slipped away quietly on January 28, in Altadena, CA. With her glasses on the bedside table and her book by her side, she died as she had lived, without much fanfare but with an abundance of grace. Betty was born in Massachusetts only a few days after the start of the Great Depression, and her childhood shaped her to be frugal and cautious with resources (her fundraising abilities and love of recycling had deep roots). She graduated from Vassar College in 1952 with an AB in Political Science, but was best known in her adult life as a woman working for the good causes of her world. Among these were People for Open Space, East Bay Activities Center, California Shakespeare Festival, Aurora Theatre Group, and finally, BCCO.
Betty joined the chorus in 2000, and within a few months of joining the Board in 2003 she had organized a new Development Committee. She initiated our Major Donors program and the BCCO Legacy Society, and pushed for creation of an archive of BCCO materials (which is now housed at the Jean Gray Hargrove Music Library at UC Berkeley). With her gentle smile and quiet determination to put the chorus on a secure financial footing, she had an especially gracious and effective way of encouraging support. In fact, she was virtually irresistible. One of her most notable other achievements as a Board member was serving as co-chair of the search committee that ultimately brought Ming to the chorus as Music Director in 2011. She was delighted to have participated in such a successful search, and took great pleasure in how the chorus continued to grow and change under Ming's leadership.
Betty's talent-spotting abilities were highlighted again in the spring of 2014, when she somewhat shyly suggested that she knew "an excellent baritone soloist who would be perfect for Elijah". Sure enough, she did: Jim Demler, who was not only a member of the music faculty at Boston University (and had recently sung Elijah), but was also, not incidentally, her son-in-law. Jim turned out to be a marvelous fit for BCCO, and joined us not only for Elijah, but also later toured with us as baritone soloist for the Verdi Requiem. Jim shared Betty's love for baseball, and an outing they shared at ATT Park led to Betty's surprise cameo appearance on the broadcast of the game! You can read more about that adventure – and see a clip here. (Her 1935 glove is featured in the clip and in her photo, above).
Betty retired from the chorus following our spring concerts in 2016, and moved to Altadena to be closer to her daughter, Laura Weekes. In addition to Laura, she is survived by her daughter Janvrin Weekes Demler (who lives in Dedham, MA with Jim and their daughter Elizabeth Weekes Demler), and by her stepdaughter, Julie Pigford Earnest of Portland, OR. She is also survived by her first husband and the father of her children, Frederic Delano Weekes, of Lakewood, WA. Betty's beloved second husband was Thomas Pigford, the founding chairman of the Nuclear Engineering Department at UC Berkeley; he passed away in 2010. In typical Betty fashion, she planned ahead and left instructions for her own memorial service in Berkeley.